Join the Neal & Joy Carlson Legacy Society!
Sometimes when we receive a gift from an estate, it comes to us as a surprise. It is a lovely surprise. But by joining the Neal & Joy Carlson Legacy Society, named in honor of our first Executive Director and his wife, we can honor you. Knowing in advance about your gift can help us accomplish two very important things:
We can clarify any questions we have about how you want your gift to make a difference.
We can capture and preserve your donor legacy story by completing an interview and collecting photos of you.
Legacy Society Enrollment Form
Let us know you have included us in your estate by filling out this short form and returning it to our office by mail or in person.
Frequently Asked Questions
Why give to the Community Foundation through an estate gift?
An estate gift allows you to strategically accomplish both your financial and charitable goals. These can include preserving the family name, honoring loved ones, supporting a favorite nonprofit even after you are gone, supporting the community you call home and minimizing tax burdens. Bequests to the Community Foundation are exempt from estate taxes.
What kinds of assets can be used to make an estate gift?
Generally, donors give assets like IRAs, securities, real estate, insurance policies and cash.
How can my gift make a difference?
You have many options. Your estate gift of any amount can go to an existing endowment at the Community Foundation, or you can start a new endowment (which you can name) for a gift of at least $5,000*.
Your gift can:
be designated to a specific charity, which would annually receive a distribution from the endowment, forever,
support a particular charitable cause, like helping animals, or children, or supporting the arts,
establish an advised fund that would give your children or grandchildren the opportunity to recommend grants for charity,
establish a scholarship fund to help students who meet criteria you set pay for college, university or vocational training (scholarship funds require an establishing gift of at least $25,000),
establish a community fund, which would give the Community Foundation the flexibility to meet local needs as they arise. These gifts are especially precious to us because we cannot anticipate the needs that will surface 5, 10, or even 100 years from now, or
establish an operating fund for the Community Foundation, which helps us cover our day-to-day expenses.
When should I include a gift in my estate plan?
Anytime you are drafting or changing your will or estate plan, you may consider charitable gifts. Your financial or legal advisor can provide professional guidance related to your estate, beneficiaries, goals and taxes.
How do I plan an estate gift?
Call your financial advisor, estate planner or the Community Foundation staff. We provide confidential philanthropic services to donors and their advisors.
Neal & Joy Carlson's Legacy
"If there's any town in Indiana to move to, I'd go to Warsaw." That's what a friend of Neal Carlson's told him back in 1955 when Neal was considering accepting a job with First National Bank of Warsaw.
Neal heeded the advice of his friend, and he and Joy have called Warsaw home ever since.
Neal and Joy were both raised on small Indiana farms—in Brookston for Joy and near North Liberty for Neal. Joy finished nursing school and Neal graduated from Purdue University.
"Warsaw was a great place to raise children," said Joy. "And we think highly of the school system," Neal added. The Carlson's raised their children here—Sue, Jon and Jim, and a daughter, Jo Ann, who passed away as a result of a car accident when she was a child. In addition to the good family atmosphere of the community, Neal was drawn to what he saw as the relatively recession free economy due to the diversified industry.
Joy's job as a nurse (first with Murphy Medical Center then with Dr. Keough) led her to realize, along with six other nurses, the need for a Home Health Care organization. Together, they established the county's first such organization, Kosciusko Home Care & Hospice, in 1976. In addition to her Home Health Care work, Joy has been involved with the Salvation Army's Women's Auxiliary, Mobile Meals, and the First United Methodist Church of Warsaw.
Neal was a long-tenured Kiwanian, and was active in the Kosciusko County Historical Society, the First United Methodist Church of Warsaw, and the Purdue Club of Kosciusko County. He served as an advisor for the Lake City Greenway project and as a literacy mentor.
Both Neal and Joy have been recognized for their contributions to the community. In 1978, Joy was named Warsaw's Woman of the Year. Neal was named Warsaw's Man of the Year in 1976 and received the Sagamore of the Wabash in 1997.
Neal's relationship with the Community Foundation goes back to 1972, when he joined the Board of what was then called the Greater Warsaw Community Foundation. In 1990, as he was retiring from his position as President of First National Bank of Warsaw, Neal became the Community Foundation's first Executive Director.
These days the Carlsons enjoy spending time with their children, grandchildren and great grandchildren. They both have some advice for future generations. "Always set goals, and be a good example," Joy said. "Live within your means," said Neal. And both the Carlsons agreed that being involved in community is especially important and a great way to meet good people and to receive much more than you give.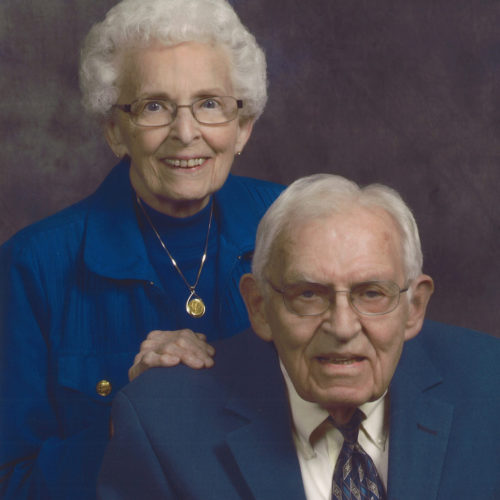 "Always set goals, and be a good example…"