Creighton Brothers Charitable Fund Donates $10,000 to Magical Meadows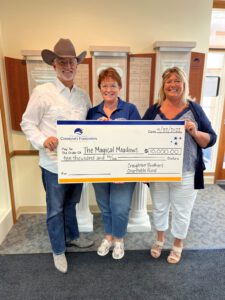 The Creighton Brothers Charitable Fund recently made a $10,000 donation to Magical Meadows to fund the installation of an automatic watering system for the horse pastures. The Creighton Brothers Charitable Fund is a donor advised component fund of the Kosciusko County Community Foundation. Creighton Brothers created the fund to help facilitate their company's charitable giving. Grants are recommended by an advisory committee from Creighton Brothers. In addition to the grant made through this advised fund, Eddie Creighton matched the donation with a personal contribution of $10,000 to the project.
Magical Meadows is a public charity located in Warsaw, Indiana that was created to provide a natural space for those with physical, mental, or emotional challenges, along with their families, to experience the healing power of horses.
Creighton Brothers Inc., established in 1925 and headquartered in Atwood, Indiana, is a 4th generation family farm. The farm functions as a vertically integrated agribusiness that produces nearly 2 billion eggs each year and manages 10,000 acres of farmland.
Kosciusko County Community Foundation, Inc. is a public charity whose mission is to bring caring people and charitable endeavors together to inspire generosity and strengthen communities. The Community Foundation grants about $3 million annually in the areas of education, health, arts and culture, recreation, civic projects, environment, and human services. Gifts made to the Community Foundation are tax-deductible. For more information, visit www.KCFoundation.org, call 574-267-1901 or visit 102 E. Market Street, Warsaw.