First Federal Savings Bank Supports Community During COVID-19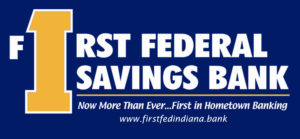 First Federal Savings Bank made a $10,000 donation to the Kosciusko County Community Foundation's Board Rapid Response Fund in order to help respond to community needs as a result of the COVID-19 pandemic.
Using the Board Rapid Response Fund, the Community Foundation is joining with other area funders to provide grants to local agencies serving the emergency needs of Kosciusko County during the COVID-19 pandemic. Last week, the Community Foundation announced the first grants providing support to local food pantries who are experiencing an increase in the demand for their services as people are laid off. Earlier this week, the second wave of grants was announced, providing support to local shelter and residential programs experiencing higher costs due to the stay at home order. These grants were made possible in partnership with K21 Health Foundation, United Way of Kosciusko County and Zimmer Biomet Foundation.
The Community Foundation anticipates subsequent waves of relief through additional grants in the coming weeks. The $10,000 donation from First Federal Savings Bank will allow the Community Foundation's Board of Directors to continue to respond to community needs resulting from COVID-19.
"We at First Federal Savings Bank embrace our role as a community bank," said Michael Zahn, President/CEO of First Federal Savings Bank. "During these trying times, we feel it is paramount to provide support to those in need. We appreciate the Foundation leading this effort in addition to all the social service agencies and volunteers who are heroes helping our neighbors."
First Federal Savings Bank has a branch located at 402 E Center Street in Warsaw.
The Kosciusko County Community Foundation is a public charity that grants about $3 million annually. Those interested in helping the Community Foundation respond to emergency community needs can make a tax-deductible gift to 102 E Market St, Warsaw or online at www.kcfoundation.org/donate. Designate donations to the Board Rapid Response Fund. For more information, call 574-267-1901.