Foundation Welcomes New Staff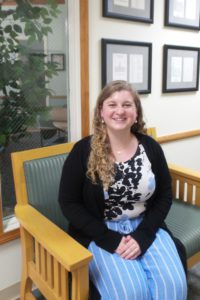 The Kosciusko County Community Foundation is pleased to welcome Kendra Housel to our team!
Kendra serves as the Program and Communications Assistant. Her role focuses on the Foundation's grant and scholarship programs, as well as assisting in public and internal communication. She is a lifelong Kosciusko County resident and a graduate of Warsaw Community High School.
Kendra finished her undergraduate degree at Indiana Wesleyan University this past April, where she worked for the Alumni Association and the Music Ministry program. She previously worked with the Community Foundation as a member of its youth organization, KEYS, when she was a high school student. Kendra enjoys writing, reading, singing, DIY projects, and hiking.
Kendra said, "I am so thankful for the opportunity to work at an organization that has made such a difference in my life, and to give back to my community."
Since 1968, Kosciusko County Community Foundation, Inc. has helped donors achieve their charitable dreams. The Community Foundation is a public charity that grants about $3 million annually in the areas of education, health, arts and culture, recreation, civic projects, environment and human services. Gifts made to the Community Foundation are tax-deductible. For more information, visit www.KCFoundation.org, call 574-267-1901 or visit 102 E. Market Street, Warsaw.