Gidieon Orion Cook Memorial Fund Established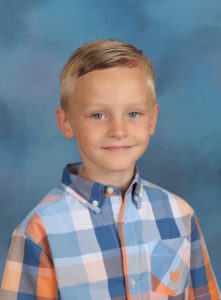 When Gidieon Cook tragically passed away this past summer at only 8 years old, the outpouring of love and support from the Kosciusko County community was a lifeline for his mother, Keri Cook.  It was this support that inspired her to find a way to give back to the community. By creating the Gidieon Orion Cook Memorial Fund, Keri can give back to the community that has supported her family since Gidieon's passing, while also ensuring that Gidieon's name will never be forgotten. Click here to view Gidieon's story on our Donor Stories Page.
As a Community Fund, the Gidieon Orion Cook Memorial Fund will help the Kosciusko County Community Foundation respond to the changing needs in our county. Community Funds make grants to support programs that provide services and resources to low-income families, provide arts and cultural experiences in our area, support victims of domestic violence, nonprofit child care programs, trails and recreational projects, and so much more.
Gifts can be made online or via check to 102 E. Market Street, Warsaw, Indiana 46580 with "Gidieon Cook" in the memo line.