GIFT VII Large-Scale Leadership Grants
Kosciusko County Community Foundation, Inc. has received a Large-Scale Community Le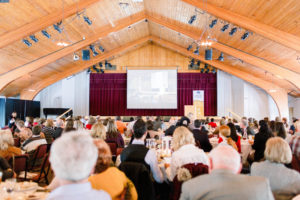 adership Grant of $4,346,881  through the seventh phase of Lilly Endowment Inc.'s Giving Indiana Funds for Tomorrow (GIFT VII) initiative. The grant will support the Community Foundation's Working Together initiative aimed at increasing access to childcare, workforce housing, workforce training and workforce attraction and retention.
Kosciusko County Community Foundation, Inc. is one of 11 community foundations in Indiana to receive a Large-Scale Leadership Grant as part of a competitive component of the GIFT VII initiative. Through GIFT VII, Lilly Endowment encouraged Indiana's community foundations to deepen their understanding of the most pressing challenges and opportunities facing their local communities, prioritize them and develop plans to address the challenges and opportunities. The Large-Scale Leadership Grants are in addition to non-competitive GIFT VII Community Leadership Grants that Lilly Endowment made earlier this year to 87 of Indiana's community foundations. Kosciusko County Community Foundation received a $150,000 leadership grant in September, which they are using to help the county and towns within the county to create a unified comprehensive plan.
The Large-Scale Leadership Grant will enable Kosciusko County to reduce barriers that prevent people from participating in our workforce. Access to housing, childcare and job training is critical to helping people who want to engage in the workforce to do so. Additionally, new resources dedicated to talent recruitment and retention will help meet the labor needs of area employers.
"The Large-Scale Community Leadership Grant is a game changer for Kosciusko County," said Kosciusko County Community Foundation Board President, Kevin Deardorff. "The Community Foundation and many partners have been working on the issues of childcare, workforce housing and workforce development for quite a while. This grant will significantly accelerate our work over the next five years. We are grateful to Lilly Endowment."
The priorities that are being addressed by the Working Together initiative first were identified through Community Foundation board and stakeholder surveys dating back to 2017. During the summer of 2019, the Community Foundation hosted 11 Hometown Chats giving residents the opportunity to express what they felt were the community's greatest needs. Participants in Hometown Chats reiterated the need for childcare, housing and workforce development. The Community Foundation also gleaned information from a Housing Study and Strategy completed with the help of dollars from a GIFT VII Planning Grant from Lilly Endowment.
"The 11 grants Lilly Endowment is funding through the highly-competitive component of GIFT VII hold great promise of helping community foundations strengthen the leadership roles they play in improving  the quality of life for their communities' residents" said Ronni Kloth, Lilly Endowment's vice president for community development. "We are truly impressed by the collaborative projects these community foundations have developed to address the compelling needs they have prioritized and look forward to seeing the impact of their efforts in the years to come."
Since 1968, Kosciusko County Community Foundation, Inc. has helped donors achieve their charitable dreams. The Community Foundation is a public charity that grants about $3 million annually in the areas of education, health, arts and culture, recreation, civic projects, environment, and human services. For more information, visit www.KCFoundation.org, call 574-267-1901 or visit 102 E Market Street, Warsaw.
Lilly Endowment Inc. is an Indianapolis-based private philanthropic foundation created in 1937 by J.K. Lilly, Sr. and his sons Eli and J.K. Jr. through gifts of stock in their pharmaceutical business, Eli Lilly and Company. Although the gifts of stock remain a financial bedrock of the Endowment, it is a separate entity from the company, with a distinct governing board, staff and location. In keeping with the founders' wishes, the Endowment supports the causes of community development, education and religion. The Endowment funds significant programs throughout the United States, especially in the field of religion. However, it maintains a special commitment to its founders' hometown, Indianapolis, and home state, Indiana.