Interactive open houses on growth and development.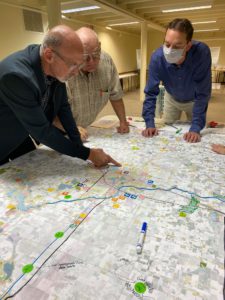 The FORWARD Kosciusko County planning team will host a series of two open-house meetings to solicit input from the public on the preliminary growth and development scenarios that were generated as part of the County's comprehensive planning effort. The comprehensive plan is a guidance document for future growth and development that frequently focuses on the next 10 to 20 years. It serves as a roadmap for effective decision making in both private development projects and community initiatives for the public good.
The County's current comprehensive plan was last updated in 1996. The comprehensive planning process provides the people of Kosciusko County with the opportunity to guide land use and development to meet the future needs of our County and your local community, especially in terms of public health, safety, and infrastructure.
In addition to the County comprehensive plan, the individual communities of Claypool, Etna Green, Leesburg, Mentone, Milford, North Webster, Pierceton, Silver Lake and Syracuse will also receive recommendations for their own long-range planning initiatives. This collaborative planning effort will allow these communities to leverage their unique assets and identify a strategic plan for growth, improvement and continued prosperity.
The public open houses will allow residents to review preliminary recommendations on future growth areas, future development types, and future preservation areas at both the county and local levels. Since updating the comprehensive plan is a public process and the County wants to involve as many citizens as possible and all residents are encouraged to attend. Each meeting will be an open-house format where community members can gather and share their opinions in an informal setting. There will be an introductory presentation offered at the beginning of each meeting and afterwards attendees will be encouraged to visit specific meeting stations to weigh in on growth and development scenarios as well as community topics such as housing, businesses, roadways, trails and recreation to name a few. Attendees are encouraged to stay as long as they like during the workshop. Project staff will be on hand to collect input, discuss ideas and answer questions.
FORWARD Kosciusko County is intended to encourage cooperation, collaboration and continued, shared investment amongst all implementation partners. The process, and final plan, is intended to represent all of us and will be OUR tool to build a better future together.
Additional information on the project, including digital engagement opportunities can be found at www.forwardkosciusko.com.
If you would like more information about FORWARD Kosciusko County, please contact Katie Clark at info@forwardkosciusko.com or 317-460-7830.