Passing on the Blessing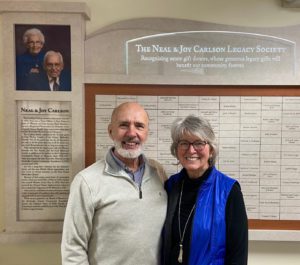 Life-long Warsaw residents Sue and Max Mock are the newest members of Kosciusko County Community Foundation's Neal & Joy Carlson Legacy Society, having made a bequest to the Community Foundation in their Will that will ensure their continued support of the community they love well into the future.
"Our retirement, the planning of our 50th wedding anniversary, and the quieter time of the pandemic has given us the window of opportunity to start putting our deepest wishes into place," said Sue Mock. "We wondered, 'What blessings have we received through the divine wisdom and love of those that have traveled before us? And, what should we do with these blessings?'"
The Mocks decided that the Community Foundation embodies their beliefs that a brighter future is possible when people join together to share their gifts with their community.
The decision to join the Legacy Society was made even easier for the Mocks because of the familial connection Sue has to the Community Foundation. Sue's father, Neal Carlson, was the first Executive Director of the Community Foundation and he and his wife Joy are the honorary namesakes of the Legacy Society.
"With dad involved from the beginning, we feel that we really understand the inner workings and history of the Community Foundation," said Sue. "The Community Foundation has always been so dear to our hearts and we're really excited to be in the position to continue helping the foundation to grow and to be another channel in continuing to build this community."
Sue and Max were both raised in Warsaw and have known each other since childhood. After college, the couple moved to South Bend, but they say that moving away only helped them realize what a special place their hometown truly is.
They got the opportunity to move back when Max took a job with Zimmer, so they returned and raised their three children here. "Warsaw is such a fantastic community," said Max. "We are so blessed to have grown up here and raised our family here."
Some of what the Mocks appreciate most about this area includes our beautiful lakes, parks, public gardens, the caring school system, and wonderful community members and business leaders.
Max recently retired from his role as a financial advisor with Edward Jones and Sue is a retired teacher, having spent most of her career in special education at Eisenhower Elementary in Warsaw. Max is also a Board Member of the K21 Health Foundation.
The couple live on Center Lake, in a house they purchased from Sue's parents upon their retirement to Grace Village. Joy still calls Grace Village home, however Neal passed away in 2017 at age 91.
The Mock's credit the Community Foundation with supporting numerous projects over the years that have made Kosciusko County and the City of Warsaw a more attractive place to live, work, and raise a family.
As an educator, the Community Foundation's scholarship programs mean a lot to Sue. "There are so many different options in so many different directions. It's great to see how many volunteers get involved in the selection process, and how many recipients benefit from the scholarships," she said.
Max agrees that the level of scholarship giving in this community is exceptional, and the couple's children were recipients of scholarship awards in the past. "We really appreciate how lucky we are as a community to have these scholarships available," said Max. "Other communities have a fraction of that amount for their students."
Sue and Max have been deeply influenced by Joy and Neal's life-long legacy of giving of their time, talents, and gifts. "It is our honor and privilege to continue this pattern of living, so future generations in our community are able to live a life of deep purpose and blessing to others."
The Mocks hope that by leaving a legacy gift and continuing to educate the community about the Community Foundation's work, donor support will continue to grow and the variety and level of support that the Community Foundation provides will grow and expand, just as her dad envisioned.
"When I think of my parents, the words 'passing on the blessing' is and was the cornerstone of their lives. Their deep faith and love of others fueled their actions in how they lived life forward," said Sue.
Considering Leaving a Legacy Gift?
"Leaving the Community Foundation a bequest in your Will not only creates a lasting legacy for yourself, it will allow you to continue to support the charities that have been most important to you while you were alive," said KCF Development Director Brenda Rigdon. "These charities have counted on your annual support during your lifetime—leaving a gift to the Community Foundation and starting an endowed fund for that organization means they will still receive support from you every year, forever."
If you would like to leave a gift in your Will or estate plan, you should talk to your financial advisor or contact Brenda at 574-267-1901 or brenda@kcfoundation.org