Price Passing on a Legacy of Community Service
The legacy of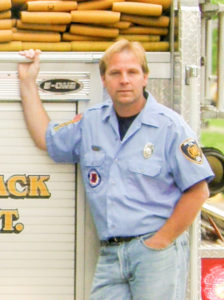 Mitchell J Price was recently commemorated through the establishment of the Mitchell J Price Memorial Scholarship Fund at the Kosciusko County Community Foundation. Price's family created this scholarship fund to help graduates of Wawasee High School who wish to become firefighters or emergency responders pursue their dreams. The scholarship also speaks to Mitch's passion for philanthropy, as it is awarded to students who are involved in community service. Beginning with the class of 2021, seniors at Wawasee can obtain an application for the Price Memorial Scholarship by contacting the Wawasee High School guidance office.
When, at the age of twenty, Price began his career in maintenance at Chore Time, he also began serving as a volunteer firefighter, becoming the third generation in his family to do so. He remained a faithful employee of Chore Time and member of the Milford Fire Department for thirty-one years.  Price's passion was to serve his community in every way possible. He was a volunteer EMT driver for the Milford Multi-Township EMS, served with and ran Chore Time's United Way campaign, and mentored elementary and middle school children as the wrestling coach at Milford elementary and middle schools.
Not only was Price an avid philanthropist, he was also someone who understood the beauty and opportunity that came from furthering one's education. He took many courses at Ivy Tech to increase his knowledge in electrical technology, earning several certifications. Price, who lost his battle with cancer at only fifty-one years old, is remembered as someone who used his life to serve others. The creation of his memorial scholarship fund will help pass on Price's legacy of service and education to generations to come.
Since 1968, Kosciusko County Community Foundation, Inc. has helped donors achieve their charitable dreams. The Community Foundation is a public charity that grants about $3 million annually in the areas of education, health, arts and culture, recreation, civic projects, environment and human services. Gifts made to the Community Foundation are tax-deductible. For more information, call 574-267-1901 or visit 102 E. Market Street, Warsaw.