Suzie Light To Be Honored With Retirement Celebration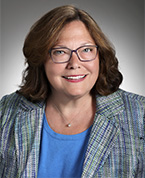 After almost 27 years of service, Suzie Light has officially retired as CEO of the Kosciusko County Community Foundation.
In August 1993, Suzie Light joined the Community Foundation as the Assistant Director and was quickly promoted to Executive Director in January 1995. Under Suzie's leadership, the Community Foundation's assets grew from $400,000 to over $60 Million. The Community Foundation now awards more than $3 Million in grants annually, which is almost eight times greater than the total asset size of the Foundation when she started.
In honor of Suzie's retirement, the Community Foundation will host a retirement party on Tuesday, August 18 at the Winona Heritage Room, 901 Park Avenue, Winona Lake. The open house style event will be held from 4:30-7:00 pm, with a brief presentation at 5:30 pm. Please RSVP at kcfoundation.org/events or by calling 574-267-1901.
Due to the COVID-19 pandemic, we ask that the timeslot from 4:30-5:15 be reserved for those individuals in the high-risk population. All attendees are encouraged to wear a mask. Hand sanitizer will be available at the event. For individuals unable to attend due to the pandemic, cards may be sent to the Community Foundation office, 102 E. Market St., Warsaw, IN 46580
The Community Foundation Board of Directors has chosen to honor Suzie's years of service through the creation of two new endowments that will forever support areas Suzie is particularly passionate about:
The Suzie Light Visual and Performing Arts Fund – to provide support to Kosciusko County based nonprofit or government entities that encourage participation in visual art programs or projects, or that establish art exhibition or permanent art installations in Kosciusko County.
The Suzie Light Nonprofit Leadership Excellence Fund – to provide support to Kosciusko County based nonprofit corporations to participate in staff training, board training, strategic planning, or other methodologies that would be beneficial to improving nonprofit capacity and long-term sustainability.
To make a gift in honor of Suzie to one of these funds, visit kcfoundation.org/donate or send to 102 East Market Street, Warsaw. If sending a check, please indicate the name of the fund you wish to support.
Since 1968, Kosciusko County Community Foundation, Inc. has helped donors achieve their charitable dreams. The Community Foundation is a public charity that grants about $3 million annually in the areas of education, health, arts and culture, recreation, civic projects, environment and human services. Gifts made to the Community Foundation are tax-deductible. For more information, call 574-267-1901 or visit us on Facebook.